Don't have time to read? Why not try audiobooks? They are a great way to enjoy all those books your friends are talking about! They are great for the drive to work, exercising or even running errands!
We have few different options for you when it comes to borrowing audiobooks so try them all out and see which one works best for you!
OneClickDigital is one of our newest services for downloadable books. We have a collection of classics and a growing collection of best sellers. There are some eBooks as well that you can download to your eReader.
Try:
The
Cuckoo's Calling by Robert
Galbraith
After losing his leg to a land mine in Afghanistan, Cormoran Strike is barely scraping by as a private investigator. Strike is down to one client, and creditors are calling. He has also just broken up with his longtime girlfriend and is now living in his office. Then John Bristow walks through his door with an amazing story: his sister, the legendary supermodel Lula Landry, known to her friends as the Cuckoo, famously fell to her death a few months earlier. The police ruled it a suicide, but John refuses to believe that. The case plunges Strike into the world of multimillionaire beauties, rock-star boyfriends, and desperate designers, and it introduces him to every variety of pleasure, enticement, seduction, and delusion known to man. You may think you know detectives, but you've never met one quite like Strike. You may think you know about the wealthy and famous, but you've never seen them under an investigation like this.
Borrow it now!
OverDrive is another one of our resources for downloadable books. We have both eBooks and eAudiobooks for children, teens and adults.
Try: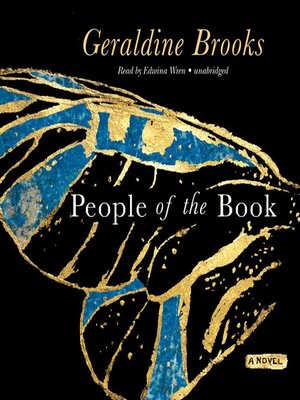 People of the Book
by Geraldine Brooks
In 1996, Hanna Heath, an Australian rare-book expert, is offered the job of a lifetime: analysis and conservation of the famed Sarajevo Haggadah, which has been rescued from Serb shelling during the Bosnian war. Priceless and beautiful, the book is one of the earliest Jewish volumes ever to be illuminated with images. When Hanna, a caustic loner with a passion for her work, discovers a series of tiny artifacts in its ancient binding—an insect-wing fragment, wine stains, salt crystals, a white hair—she begins to unlock the book's mysteries. The listener is ushered into an exquisitely detailed and atmospheric past, tracing the book's journey from its salvation back to its creation. Borrow it now!
The library has an amazing collection of audiobooks on CD. We have popular fiction, non-fiction and classics. We have over 14,000 to choose from!
Try:
When You are Engulfed in Flames by David Sedaris
From armoring the windows with LP covers to protect the house from neurotic songbirds to the awkwardness of having a lozenge fall from your mouth into the lap of a sleeping fellow passenger on a plane, David Sedaris uses life's most bizarre moments to reach new heights in understanding love and fear, family and strangers. Culminating in a brilliantly funny account of his venture to Tokyo in order to quit smoking, Sedaris' sixth essay collection will be avidly anticipated. Place a Hold
Playaways are small media players that have one book pre-loaded on them. They are great for listening to in the car via your aux jack or with your headphones. They are great for times when you don't want to burn through your phone or media player battery or storage space.
Britain, 1972. Serna Frome, a compulsive reader of novels, is sent on a "secret mission" which brings her into the literary world of Tom Haley, a promising young writer. First she loves his stories, then she begins to love the man. Can she maintain the fiction of her undercover life? Place a Hold